The whole point of having digital print estimating software is to reduce the time spent on
print job quoting.
Print business owners have to study costs to recover and control expenses.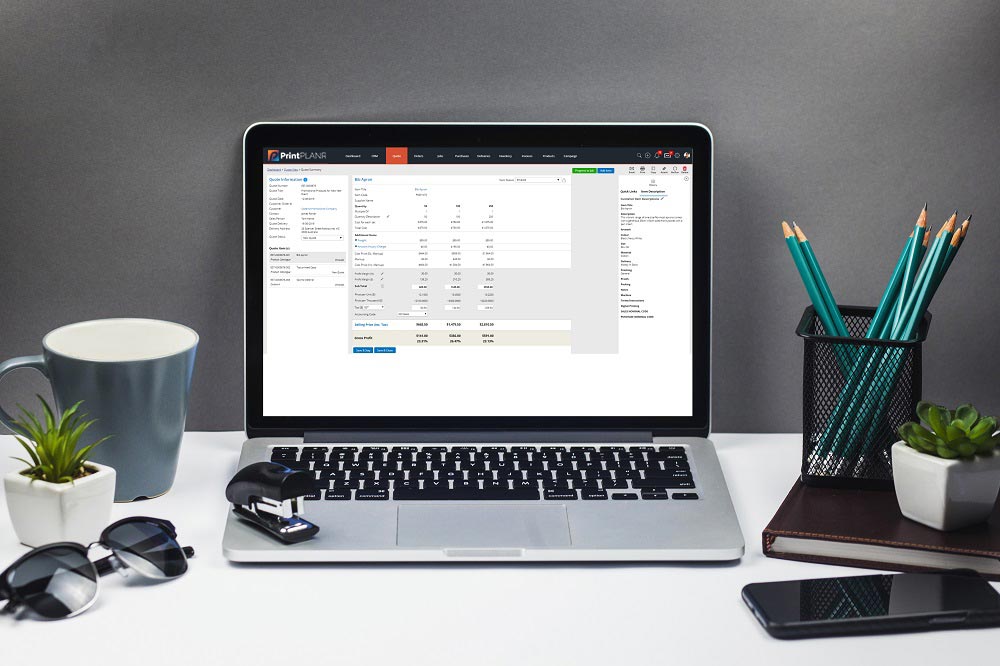 Key Features and Uses of Digital Print Estimating Software
Work Order Management
Save time and costs with sign estimating software so as to let you generate correct and constant quotes. Digital Print Estimating Software
Based on who you're invoicing and when the project is due, you could transition the estimate into a work order, which can be further advanced to an invoice.
These invoices can be mailed or printed in PDF format.
Inventory Management
Effortlessly track your print jobs each step of the way with an inventory management module. Couldn't have gotten more convenient, right?
Get in touch with our team and record all your business processes from one place.
Invoicing
Manage estimates, invoices, and purchase orders in a few clicks and make the financial aspect of your print business a breeze.
The solution can be seamlessly integrated with leading accounting software, and you can quickly create and send invoices to your customers via email.
Delivery Notes
Easily create customizable delivery notes for any order. The invoice may be edited to add or remove a certain set of information with a footnote that lists more detailed information, including contact details, bank, address, etc.
Web2Print Storefront
The Web2Print module will allow you to create unlimited B2B or B2C eCommerce print shops. With the smooth online ordering solution, your customers can view, proof, approve, and order print products in real-time.
Auto-totaling and tax configuration
Find the final calculated quoting (along with unique estimate numbers) based on the quantity, price (also cost price + markup), tax, final selling price as well as the estimated profit (cost price vs selling price breakup).
The solution auto totals the item price for each quantity, including the taxes. Besides, the estimating module can also be configured for taxes by setting predefined values in the backend for future usage.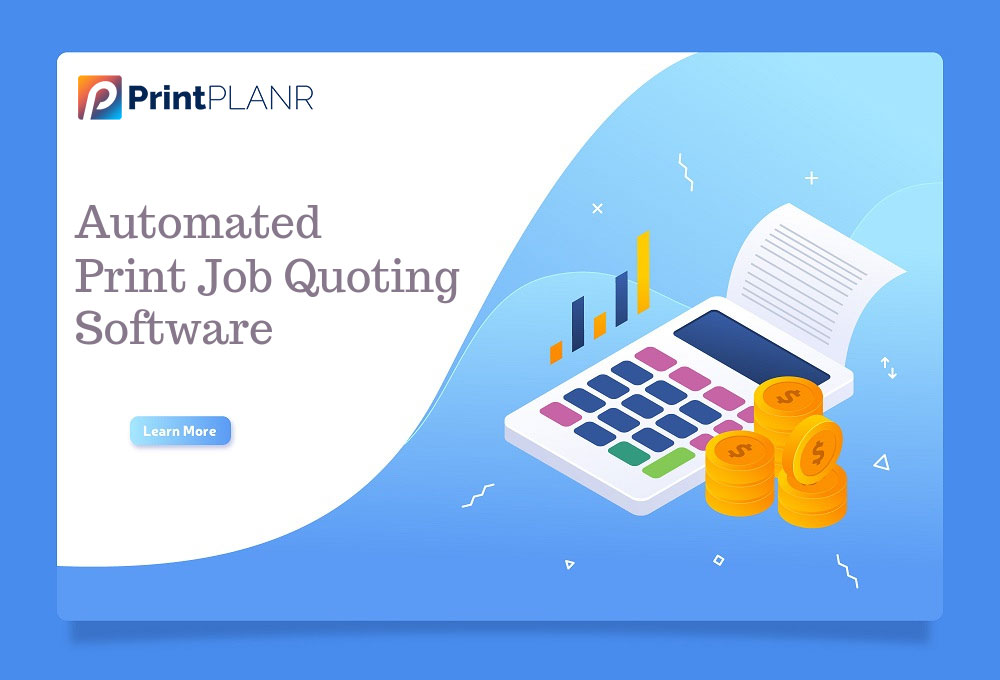 CRM
Manage your organization's customer relations and interactions by automating your sales and marketing processes.
From prospects to customers to suppliers, have all information accessible at your fingertips with the centralized, cloud-based CRM module.
You can also add, edit or delete data as and when required from anywhere.
Estimates for Multiple Runs
You can estimate similar items and operate multiple runs for up to four quantities at one shot. The estimate screen points to the cost breakdown for each item and enables the users to track the progress of individual print estimates by allocating status.
Online proofing
Have your customers approve their proofs online with PrintPLANR. Automation is the key to scaling up your business.
Use the online proofing tool of the digital print estimating software to send out the proof in various formats (such as PDF) to allow your customers to view, comment, and even edit (if permitted by the admin), so you can finalize only the approved design.
PrintPLANR, with all its unique features, gives you professional software that will portray your business as good as it is, just better.
Email Notifications
Successful print estimates are progressed to Jobs in production and customers are sent Email notifications straight from the system by creating PDF quote templates.
However, unsuccessful estimates are archived for future reference, so you don't have to memorize everything.
Below are the Key Factors to Consider in a Print MIS System:
10 key factors that are a must in print management software when planning to get an efficient print MIS software for the printing industry.
Ease of Use:
When you run a company where you cannot afford downtime due to IT concerns, outsourcing IT help desk services helps prevent downtime and the losses it would have incurred.
Efficiency:
The Print MIS Software only is as good as its efficiency. The dynamic system should allow not just ease of use but also a robust and organized environment. can handle any amount of complex data, its seamless flow, and quick accessibility without affecting any parallel running functions on the software.
Connectivity:
No business can run on a single software. But, good management software can manage all the operations when the correct integrations are chosen and integrated into it.
So, the print MIS software should have an API that integrates with any third-party software application of your choice.
Complexity in Implementation:
A proper implementation plan, an easy learning curve to operate the software, and user adoption are crucial factors.
The system setup should be in almost no time with the functionality goal met and without affecting the day-to-day business during the implementation of the MIS software for the printing industry of any kind.
A project coordinator who ensures the complete process goes seamlessly is a must.
Print MIS System Provider:
The whole process of migrating into a new print MIS software or incorporating one in your print business is exceptionally made simple when the communication is transparent and effective.
The MIS system provider should securely provide the MIS software on the cloud, be friendly and customer-oriented, and prioritize your needs.
Also, significantly meet all of your print MIS system's needs efficiently.
Future-proofed MIS System:
The print MIS system should be scalable and efficiently accommodate digital agility according to your business growth and have the capability to add more needed data resources.
Cost-effective:
The print MIS software should be affordable, long-lasting, and improve the ROI. Only when these criteria are met can MIS software for the printing industry be considered cost-effective.
Feature-rich:
The print MIS feature should possess all the significant features required to manage your print industry processes.
Customizations:
An effective print MIS system should allow customizations on top of the existing platform.
Not all printing industries are the same, and every business has its workflow and operations.
The print MIS system should fit customizations precisely to automate and seamlessly fit the whole process.
Post-implementation Support:
The relationship with a print MIS system provider does not end with the completion of implementation.
The MIS system for the print industry will require regular upgrades and bug fixes.
A proactive vigilance of the Print MIS system from the provider is a strict requirement never to compromise.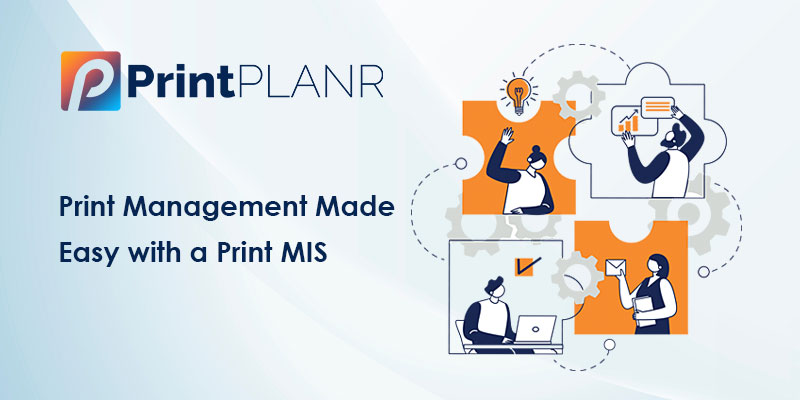 Being in the industry providing print MIS system and web to print solutions to different verticals of the printing industry and successfully providing customizations that precisely fit the business needs,
we have the experience and expertise and based the above list on the knowledge gained over the years.
Our in-house PrintPLANR team has gained many insights from regularly upgrading our solutions as per the client's requirements and knows exactly what to suggest and when to ensure the client gets the maximum benefit.
If you are looking to incorporate a print MIS system in your print business, the above-mentioned ten crucial factors are a must.
Talk to our friendly consultants to broaden your understanding of what a print MIS is and why you need it in your business.
Our consultants will be happy to help you as much as possible.